TMI Leadership Consulting helps organizations build high-performing teams through executive coaching and proven management development processes. TMI develops companies and leaders with The 6 Levels of Leadership product. It's a consultative approach to leadership development, performance improvement and culture transformation.
Imagination FX was asked to create a new web site to express the brand in a new way. The site needed to be E-Commerce with subscriptions and membership functionality. We also needed to incorporated Webinar functionality into the site. Built to highlight four levels of training videos from the college student to the corporate  executive. Incorporating the  solutions of TMI Leadership Consulting on a flexible WordPress CMS. Since this is a global company, we utilized CloudFlare as a CDN to deliver and protect the site with Infusionsoft integration.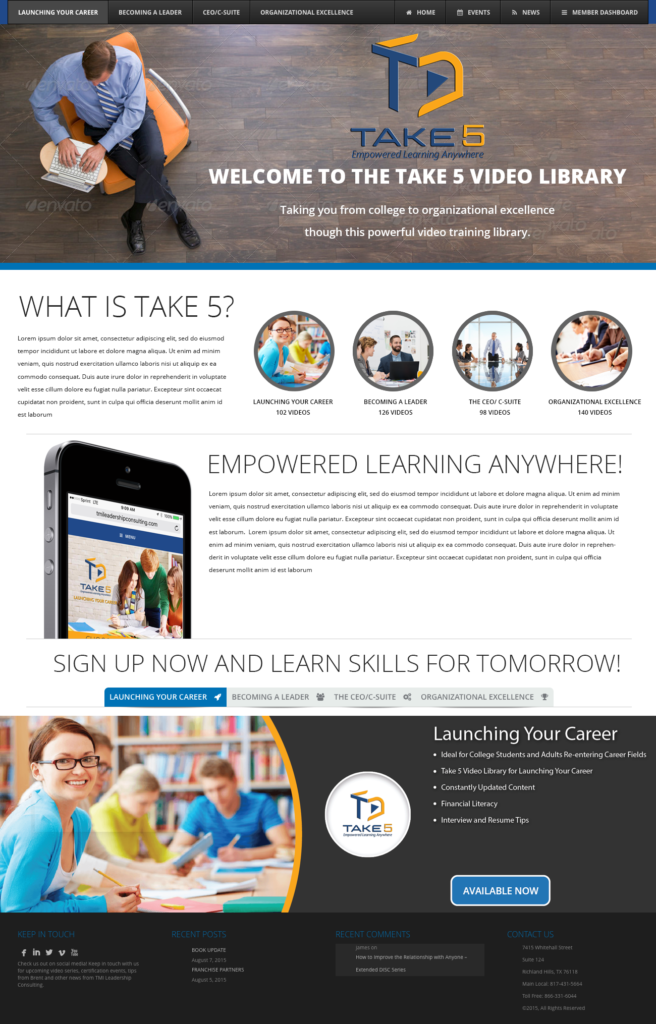 Original Mockup
The Take 5 Video Library provides career development, practical information and the motivation you need on your mobile device anytime, anywhere!  Each Take 5 Level of Learning has 8 categories that are specific to where you are in your career.  Take 5 videos are professionally produced and packaged in five minutes or less.  Selected topics are also delivered in a Take 5 Video Series with a downloadable or emailed guide for your development needs. If you have a video request, we will create custom video content for your organization.